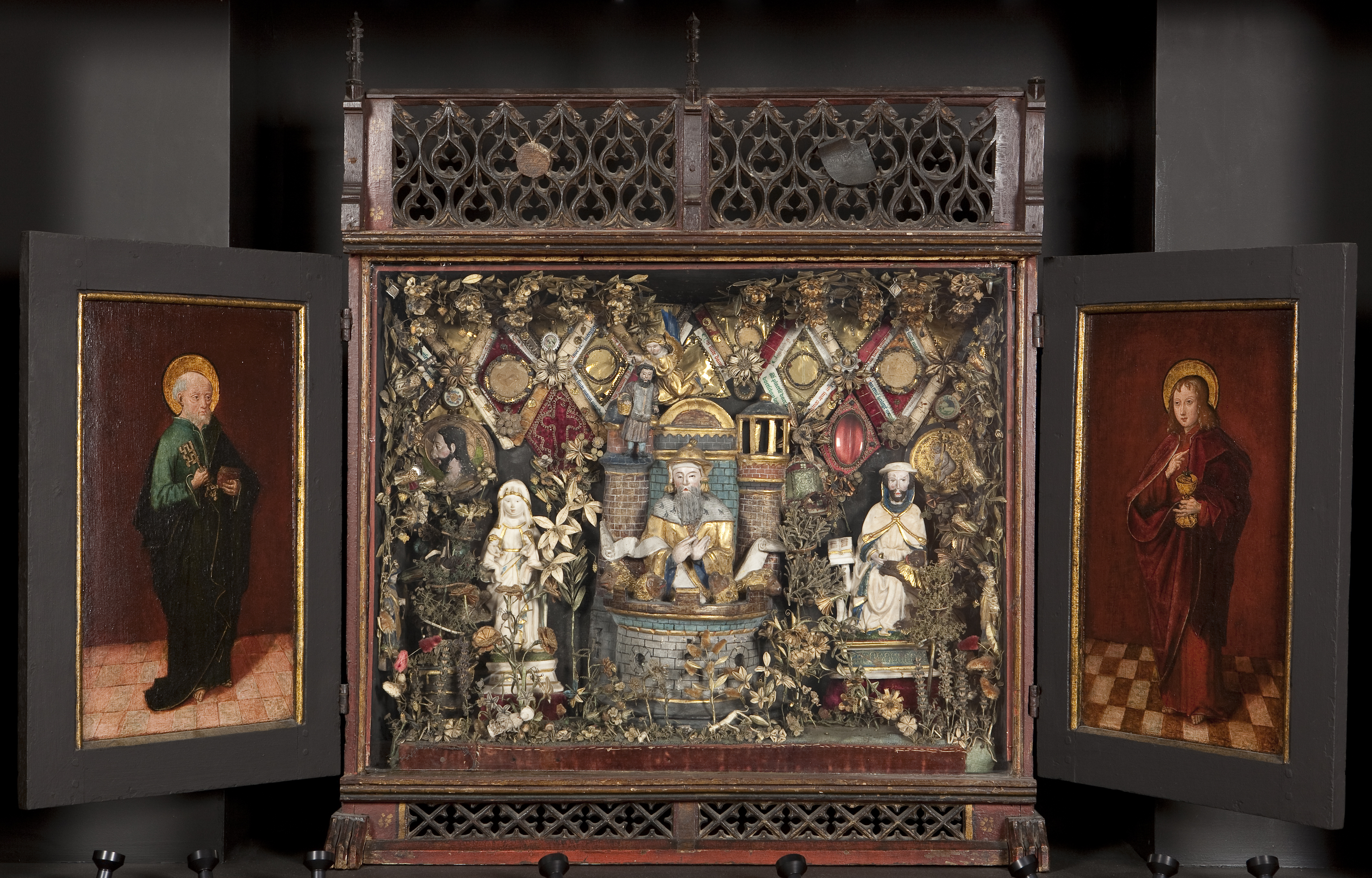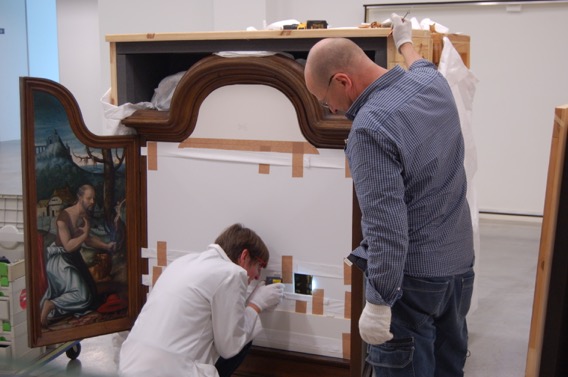 What are 'Enclosed Gardens'? 
Enclosed Gardens are an extraordinary type of sixteenth-century reliquary altarpieces. Small wooden boxes frame not only relics but also wax seals, jewellery, poupées de Malines, glass beads and pilgrim badges against a textile background of silk vegetation. These cabinets can be closed with painted wings on which saints and patrons are depicted. Together, all these different objects compose a garden enclosed by a gate as praised in the Song of Songs. More specifically, the gardens seem to relegate to the following passage of the Old Testament text: "You are a garden locked up, my sister, my bride; you are a spring enclosed, a sealed fountain" (4:12).
Although these shrines were more common in the fifteenth, sixteenth and early seventeenth centuries, their fragility and the changing taste of the beholders made that only several of these objects stood the test of time. Seven of these Enclosed Gardens were persevered by the sisters of the Onze-Lieve-Vrouwegasthuis of Mechelen. Even though it is still unclear who created these seven paradisiacal reliquary gardens, the Mechelen sisters reworked these gardens for almost 500 years; adding, replacing and removing bits and pieces.
One of the case studies used to develop the ArtGarden-matrix will focus on the mixed media Enclosed Gardens of Mechelen. Currently, a team of eight restorers, each specialized in a different medium, are cleaning all different pieces to recover the vibrancy of the gardens. This large-scale restoration and conservation project allows us to reconsider the way all these different media should be preserved in the future.
Since it would be too time-consuming to study all seven pieces within the ArtGarden-project, and the results would be very similar, only one Enclosed Garden will be subjected to close examination. To this end, the ArtGarden-team has chosen to study the Enclosed Garden with Daniel in the lion den.